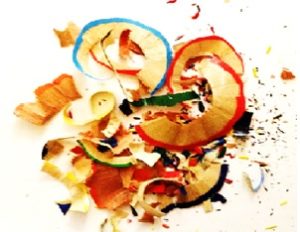 All those bottled-up emotions and feelings—deep, hidden emotions bursting to the surface.
Some would describe them as, "peeling the onion layers."
Me? I'd prefer to think of them like color pencil shavings after they are sharpened. I mean, wouldn't you rather have colorful emotions pouring out than stinky ones? Unless of course, your pencils are fruited-fragrance. Then stinky could be good. Or not. If you don't like fruit.
We all—and I mean all, have stuff we've buried. Many of us never get them out. Some don't know how to express them, some of us can't or won't.
It's a failure to communicate; if you don't even try.
There are experts who can help. They sit and listen. Unbiased. Non-judgmental, experts, trained to peel those shavings.
But, there are those people who feel going to an expert is a sign of weakness, because they should be able to deal on their own. After all, it's their feelings. No one knows you better, than you. Right? Kind of. How's that working for you?
You are in relationships. Relationships, to succeed, must have communication.
"What if, I speak or write out my hidden emotions, feelings or thoughts that have been buried and then I'm totally misunderstood and my words are twisted and turned back on me?"
What if? What ifs will drive you batty. Sheering the layers will set you free, no matter what the outcome. This is my humble opinion.
It's not healthy, holding things in. Men are known to be notorious for this. Not macho to share feelings. HA! Could be why men seem to die sooner too. (Not a medical or factual statistic—just an opinion). It's a stressor one doesn't need.  No one is a mind-reader. Although, some charge to pretend they are. (Again, my opinion). We need verbal communication.
The best way to trim those emotions, can be found in One who doesn't judge, who knows every hair on your head, who knows where you've been and where you're going, what you've said or not said, done or not done. And that One, is God.
If there is anything you think He doesn't know about you—think again. He knew you before you were born. And He loves you. He would love to help you peel those shavings away and set your mind free.
There are so many scriptures in the Bible about laying your burdens at the foot of the cross, to trust Him to carry them. To seek His face. He wants you to come to Him. He adores  you and wants the very best for you…mentally, physically and spiritually. If you are unable to communicate with another person, be it an expert or not…He is the ultimate choice. And a very good listener. Allow Him to shear those color pencil shavings and make something beautiful out of you.
In one of the books I have an article in,  Inspire Promise, I wrote about how God will never leave me. He won't leave you either. This book is filled with stories of other writers  who tell of how God's promises never cease. Communicate with Him, and with the ones you love.
1 Peter 5:7 Casting all your cares upon Him, for He cares for you.
Jeremiah 29:11-13 For I know the thought I think toward you, says the Lord, thoughts of peace and not of evil, to give you a future and hope. Then you will call upon Me and go and pray to Me and I will listen to you. And you will seek Me and find Me, when you search for Me with all our heart.
Psalm 16:7 I will bless the Lord who has given me counsel.
Psalm 27:7 Hear, O Lord, when I cry with my voice! Have mercy upon me, and answer me. When You said, "Seek my face," My heart said to You, "Your face, Lord, I will seek."
Psalm 28:6-7 Blessed be the Lord, Because He heard the voice of my supplications! The Lord is my strength and my shield; My heart trusted in Him, and I am helped.
(Scriptures taken from NKJV)