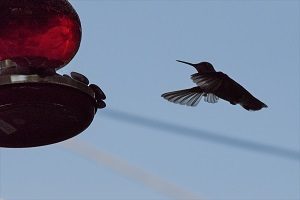 It has been a little over a year since I officially retired. I never knew how wonderful it would be to have so much time on my hands.
At first it felt like I was playing hooky. An awkward feeling, like someone would see me if I was shopping or out and about. It felt down-right odd. But I got used to it in no time. Especially, when I no longer had to hit the snooze button. Ahhh. This is the life.
I soon made a morning appointment with God on my swing in the backyard. Why haven't I been doing it more often? Oh, I would get my devotionals, Bible and a cup of coffee every morning. But this, this was different. I wasn't rushed, time really didn't matter. Making sure no one else was outdoors when I chose to be, made it even more peaceful.
It didn't take long, I wasn't alone.
We have two hummingbird feeders in close proximity to one another—and my swing. It became quite clear my time alone would be marked each morning by their buzzing and battling for the feeder. And me watching them and giggling. Not what I had in mind for my quiet time with God. But hey, God make those creatures, so I can't help it if I enjoy their presence. Daily. A lot.
I soon learned more about them. They don't like to share. There is always a dominant hummer, as I have gotten to know their habits quite well, which refuses to let any other hummer land on the feeders. It chases them off and not one of them gets to eat. But I notice one, somehow manages to fly under the radar. I watch as it pauses to eat, anxiously looking back and forth for the "chaser."
It occurred to me, we are much like the hummingbirds. We too are busy. We are very territorial. We sense trouble. Especially us moms with our sixth sense. And we don't know how to pause. This can't be a good thing, right? Not good for the mind, body or soul.
My time alone with God in the morning has been great for my mind, body & spirit. It has slowed me down enough to think about—well, slowing down. I am enjoying my time with Him. He reminds me I'm never alone and He has given me such abundant blessings. Even sending His little creations called Hummingbirds, to bring a smile to my face. He knows the joy they bring to my small world. I am so thankful to have this morning time on my swing with God. I cherish the calm, peaceful, and joyful moments. He gives us these abundant blessings, even as small as a Hummingbird, to enjoy. I encourage you to stop, look and listen to His calling for peace and tranquility.
I hope this small bit will help you think about some things you are missing out on simply because you are too busy. If only to notice the sunrise or sunset. Or a smile a stranger gives you and you were too deep in your busy thoughts to notice. Or a beautiful butterfly. There are so many blessings around us. Take the time to pause, take a deep breath, and enjoy them.
May you be blessed beyond measure, as you take the time for 'you.'
For I know the plans I have for you, says the Lord…Jeremiah 29:11