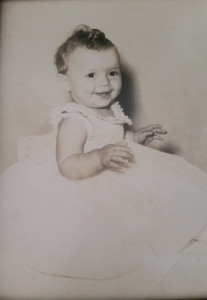 So age is just a number?  My current "number" states eligibility for SS. Whhhhaaat? My son, Ry, asked me, "Ma, how did that happen?" I chuckled. Isn't that the question of a lifetime? Where does the time go? Seriously. I cannot believe I'm well past half of my life.
I told him I had no idea but that I was thankful for each and every sunrise.
Obviously, I cannot remember when, where, how or who took this baby picture. I only know it was a very long time ago. The span between then and now is also a long time. Do I remember all the years? No. Heck no. I remember many milestones though. Especially the birth of both sons. How in the world are they both now in their 40's? HOW? How in the world am I a grandmother of four and the oldest is nineteen? HOW? HOW? HOW? I mean, I still don't know what I want to be when I grow up, let alone grow old-er.
Time stops for no one. God knows when our time will stop. For Him I am thankful. He gives life. He gives the sunrises and sunsets. He offers His hand in all things wonderful—all around us, daily.
So, as another birthday is in the not-too-distant future, I want to thank all those from the top of my heart, who have and will celebrate with me—my God-given day of birth. I want to thank all those who reign in every single year filled with hope, joy, love, fun, smiles/laughter, with me. I have much to be thankful for—past, present and future gifts. Gifts I call family, friends, and health.
I love you all.
Many blessings,
Chrissy D. <><
This is the day the Lord has made, I will rejoice and be glad in it. Psalm 118:24